Chapter 10
10. Advances in the 1970s
In the 1970s more pioneers arrived to continue to lay the administrative foundation of the Faith in Macau. Mr. Charles Duncan was requested to go to Macau by the National Spiritual Assembly of North East Asia. He arrived in March, 1972 and stayed about ten years, when he left to pioneer in Okinawa, Japan. Through the years,
48
---
Mr. Duncan has done great service in various countries of Asia. He was designated as Knight of Bahá'u'lláh for being among the first to pioneer to Brunei, in 1954, during the Ten Year Crusade. Brunei, like Macau, was mentioned by the Guardian as one of the areas to be opened to the Faith.
Mr. and Mrs. David Mockon, pioneers from the Philippines, arrived in Macau April 1972. At that time there were eight believers there including the three pioneers.
In those years Local Assemblies could be formed during the year. In July of 1972 an all-Chinese Local Spiritual Assembly was elected. The election was the first since 1969.
In 1973 more pioneers came; Miss Jane Jones and the Thomas Lane family from the United States. Mr. and Mrs. Carl Scherer came back to Macau for three months in 1973.
As the general economy became more prosperous, the 1970s saw a large gain in pioneers almost everywhere in the Bahá'í world. This was noticeable in the Orient.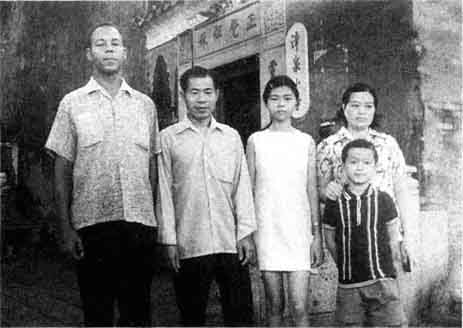 click for larger image
In 1972 there was some intensive teaching done on the island of Taipa, by Bahá'ís living in Macau and also by Bahá'ís from Malaysia who were pioneering to Hong Kong. During a memorable teaching trip it was reported that over 100 people living on the island heard about the Faith and nine became Bahá'ís.

Mr. Duncan (left) indicated that these were the first Bahá'ís on Taipa.

49
---
Two Malaysian Bahá'ís Mr. Tei Teik Hoe and Mr. Yin Hong Shuen, who were pioneering in Hong Kong made a teaching trip to Macau in 1972. They described teaching in Taipa. A hundred islanders milled around the Bahá'ís, took all their pamphlets, and by the time the Bahá'ís boarded the boat to go back to Macau they left behind nine Bahá'ís. A Local Spiritual Assembly was formed in Taipa that year but it was not elected again the following year.
By 1973, including pioneers, there were eighteen believers spread out in three localities, Macau, Taipa and Coloane. Later the membership climbed to 32 which included seven youth.
In 1973 the Macau community was assigned four delegates to represent Macau at the first National Convention of the Bahá'ís of Hong Kong which was to be the following year. Macau was not included in the name of the new assembly but was under its jurisdiction.
As the Bahá'ís increased, a permanent Bahá'í Center became increasingly needed. In 1973 negotiations were started by Mr. H. Azizi to purchase a flat in a convenient location. By 1974 there was a Bahá'í Center for Macau, a donation from Mr. Azizi.
In March 1974 mainly due to teaching efforts of several dedicated pioneers and travel teachers the Bahá'í membership climbed to 36 adults with eleven youth. A few months later reports showed 47 adult Bahá'ís and twelve youth in the three areas of Macau. In January 1974, according to a statistical report, there were now 68 Bahá'ís which included nineteen youth. Macau was taking off, and would continue to grow and eventually take the Faith of Bahá'u'lláh into the homeland, China.
In April 1974 the National Spiritual Assembly of the Bahá'ís of North East Asia ceased to exist as the last area, Hong Kong, formed its own National Spiritual Assembly with Macau under its jurisdiction. The National Spiritual Assembly of North East Asia sent Mrs. Kimiko Schwerin as its representative to that first Convention. At the same time, in Tokyo, the National Spiritual Assembly of the Bahá'ís of Japan came into existence with Hand of the Cause Mr. William Sears representing the Universal House of Justice.
50
---
After that there was very little direct contact between Macau and the National Spiritual Assembly of Japan.
Recognition should be given to the many Malaysian Bahá'í travel teachers who traveled to various countries during the 1970s and are still continuing to spread out at this writing. During the teaching campaigns started by Hand of the Cause Dr. Muhajir in Hong Kong during the early 1970s, at one time there were 30 Bahá'ís from Malaysia, Singapore and Thailand. In 1975 a Malaysian Singing Group went to Macau and gave a singing fireside meeting. Eighty people attended, including 40 seekers. The group also gave performances in Hong Kong.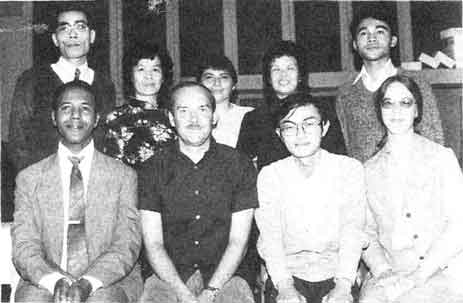 click for larger image
The Local Spiritual Assembly of Macau in 1974. Seated: Mr. Charles Duncan, Mr. Thomas Lane, Mr. David Mockon, Miss Jane Jones. Standing: Dr. Lai, Mrs. Lai, Mrs. Elaine Lane, Mrs. Ma and (unknown).