Chapter 3
3. Early Bahá'í History
Mrs. Frances Heller, a Bahá'í from California, U.S.A., was on her way across the Pacific Ocean by ship headed for the Asian Intercontinental Teaching Conference in India in October 1953. From Hong Kong she was to go onward by airplane. During the few days she was in Hong Kong she made a one-day trip to Macau. She was immediately attracted to it and learned that she could probably get a visa to reside there. After the conference in India she returned to Macau arriving October 20, 1953. Macau was now opened to the Faith with a resident Bahá'í. Mrs. Heller became the first Knight of Bahá'u'lláh for Macau.
Three Knights of Bahá'u'lláh. Mr. Carl Scherer, Mrs. Loretta Scherer and Mrs. Frances Heller. This photograph was taken in 1954.

3
---
At that time, according to Mrs. Heller, Macau was like a Chinese village, although there were also many Portuguese in service with the Portuguese Army. Mrs. Heller rented a house at No. 9 Ave. Dr. Rodrigo Rodrigues. Shortly after she got settled a Chinese woman came to her and asked if she would teach her little boy English. It was Miss Mary Tung (Mrs. Shia). She became a Bahá'í January 1955, the first Chinese women to accept the Faith in Macau.
On December 8, 1953 Carl and Loretta Scherer, from Wisconsin, U.S.A., arrived to settle in Macau. They rented the upper flat at No. 4 Ave. Jorge Alvares. Mr. Scherer had hoped to establish some kind of business. The Scherers also became Knights of Bahá'u'lláh. They with Mrs. Heller became the first Knights of Bahá'u'lláh to settle in Chinese territory.
On March 1, 1954 at the Feast of Loftiness the three Bahá'ís officially formed the first Bahá'í group in what was designated as a virgin territory by the Guardian at the beginning of the Ten Year Crusade. Mr. Scherer was elected secretary. Apparently Mr. Scherer obtained Post Office Box No. 81 about that time. It is still being used by the Local Spiritual Assembly of the Macau Peninsula, over 35 years later.
Those three Bahá'ís were joined by Mr. and Mrs. Hishmatullah Azizi, on May 8, 1954.
Miss Arden Thur (Lee), who stayed in Hong Kong for about three months visited the Bahá'ís of Macau in February 1954. This photograph was probably taken in Hong Kong about that time. Mr. and Mrs. Azizi are in the middle. The others were friends.

4
---
Mr. and Mrs. Azizi wanted to pioneer to Hainan Island, located off the coast of mainland China. It was another of the 131 virgin area goals given by the Guardian, but as they could not obtain visas to Hainan, they first went to Hong Kong for three months. When they had to leave Hong Kong they went to Macau and stayed for five months, then back to Hong Kong. Mr. Azizi was trying to establish a business which would enable him to apply for a resident visa. Eventually he was able to do so, and his business prospered through the years.
During those early years the Azizis divided their time between Hong Kong and Iran. They frequently went back and forth between Hong Kong and Macau doing great service for the Faith.
click for larger image
This is a picture of Bahá'ís and their friends who attended the first Ridván celebration in Macau, April 21,1954. There were only three Bahá'ís in Macau at that time, Mr. and Mrs. Scherer and Mrs. Heller. Kneeling: Mr. Scherer, Mr. J. Botehlo, Mr. Sam Lau, Mr. Yim and Mr. Oliver Chiu. Standing in back: Miss Annie Ling, Mrs. Heller, Mrs. A.V. Ling, Ms. E.M. Canon, Ms. T. Maher, Mrs. Collazo, Mrs. Elsie Anfang, Ms. D. Ablamsaff, Ms. M. Cheu and Mrs. Ybarrolage. Of the guests shown above only Mr. Yim is identified in later pictures. The program that day consisted of a Bahá'í prayer, a Chinese prayer and prayers from the Bible and Koran, with an explanation of Ridván.

5
---
click for larger image
Program of the first Ridván celebration in Macau, April 21, 1954.
click for larger image
Devoted pioneers Mr. and Mrs. S.A. Suleimani visited Macau for one day, November 4, 1954, according to a notebook kept by the small Macau group. They lived in Shanghai for many years. In the early 1950s when it became difficult to continue living there, they decided to move to Taiwan which had no pioneers, to help establish the Faith. They stayed in Taiwan for the rest of their lives. From the left: Mr. Suleimani, Mrs. Heller, Mr. Yim, Mrs. Suleimani and Mr. Scherer.

6
---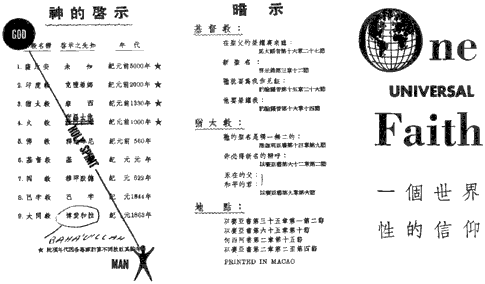 click for larger image
In late 1954 or early 1955 the Macau Bahá'í group printed an introductory pamphlet in Chinese which they paid for themselves. The title was in two languages but the contents were only in Chinese.

Both the National Spiritual Assembly of the United States and its Asia Teaching Committee wrote the group appreciative letters for taking the initiative in doing this. The Bahá'ís handed out the pamphlet during their open meetings. The pamphlet was reprinted, 1000 copies, in 1965. It was one sheet of paper printed on both sides, then folded to make three sections. Shown here are the front and back. The left side was folded in. The rest of the middle section, not shown, contained an explanation and some of the principles of the Faith.
7
---