Chapter 4
4.       The Immediate Post-Korean War Period
      In 1954 Miss Alexander took up again her correspondence (in Esperanto) with Mr. Kim Chang-zin. He had somehow heard that she was living in Kyoto, Japan and managed to contact her. She and Mr. Kim had corresponded in the 1920s and shared a keen interest in Esperanto. During the later years their correspondence was cut off due to the political situation.
      On January 10, 1954 Mr. Kim wrote to her, "It is with great joy that I write a letter to you after twenty and some years." He also wrote that during the war, "Regrettably, I lost two of my most precious possessions, a portrait of 'Abdu'l-Bahá and a book about Bahá'í." After being asked, MSgt. Kirby Kent, one of the American Bahá'í servicemen, went looking for Mr. Kim in Chunan, where he lived. In May 1954 Sgt. Kent wrote to Miss Alexander of finding Mr. Kim and of the happy time they had together. He wrote that Mr. Kim was eager to get Bahá'í literature in Japanese, which he could read.
      In December of that year Mr. Kim was able to go to Seoul to attend a "Christmas" meeting of the Seoul friends. At that time he happily signed his enrollment card, as he felt he had been a Bahá'í since the late 1920s. He is now considered to have been the first Korean believer. Mr. Kim was a staunch believer through the years. He attended the first convention of the Bahá'ís of North East Asia in 1957, although he was not a delegate. He was the first Korean Bahá'í to go home-front pioneering when he went to the then unopened island of Cheju in late 1957. He was one of two Korean Bahá'ís to attend the first World Congress in London, 1963 at the invitation of the National Spiritual Assembly of North East Asia. He was elected to the first National Spiritual Assembly of Korea in 1964 and he translated Bahá'u'lláh and the New Era, which was published in 1965. Mr. Kim died in 1990 and was buried according to Bahá'í law in the New World Cemetery near Seoul.
12
---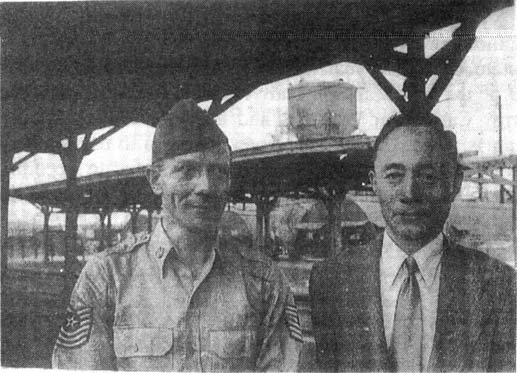 Sgt. Kirby Kent finds Mr. Kim Chang-zin, April 1954. Sgt. Kent had Mr. Kim's address in Chunan and went looking for him. Sgt. Kent later wrote to Miss Alexander of visiting her old Esperanto friend. He said it was not difficult to find him but that they had to speak through an interpreter. Once Mr. Kim was found he quickly identified himself as a Bahá'í and was staunch and faithful until the end. He is considered to be the first Korean believer in Bahá'u'lláh.
Mr. Oh Sang Sun, who had known Miss Alexander since the very early days in Japan and who had helped her so much when she made her first trip to Korea in 1921, was located by Mr. Maxwell in Seoul in 1954. Over the years Mr. Oh had become an eminent poet. He recalled Miss Alexander and the Bahá'í Faith with great affection. In spite of his close association with the Bahá'ís he could not go that last step and sign an enrollment card which would indicate a full commitment to the Faith.
      When Miss Alexander made her first trip to Korea in over 30 years in 1955, she had a very emotional reunion with both of her old friends, Mr. Oh and Mr. Kim. Interestingly, she had never actually met Mr. Kim but only corresponded with him.
      By July 1954 there were several American servicemen Bahá'ís and four Korean Bahá'ís: Mr. Suh Eton, who had become a Bahá'í in the United States while he was attending the University of Michigan, Mr. Choi Woo Yong, Mr. Kim Chang-zin and Mr. Kyung Koo Hyun. Mr. Kim Chang-zin had not yet signed an enrollment card because he was not living in Seoul and distances were great in those days. However, he was considered a Bahá'í by the friends in Korea. Mr. Kyung Koo Hyun, also called "Joseph", the only Korean to receive a direct letter written on behalf of the
13
---
Guardian, was not on any membership list nor was any reference made concerning him from then on.
      In September of that year Mr. Maxwell wrote to the Asia Teaching Committee of the National Spiritual Assembly of the United States that Korean Army Capt. Kim Won Be, and his wife, Hwang Chun Jee, had become Bahá'ís. She was the first Korean woman to declare her belief in Bahá'u'lláh. They were the fifth and sixth Koreans to become Bahá'ís. They were active for several years and then moved out of Seoul and ceased activity.
      In October Mr. Maxwell moved closer to Seoul from Wonju where he had been based. This contributed to the activity in Seoul.