Chapter 6
6.       1955
In November 1955, just one year after the first public meeting in the post-war period, Mr. Maxwell wrote an assessment of the situation in Korea. During the year his Army tour of duty had ended. He was hired by Chunnan University in Kwangju, to teach English to some 1500 students at various campuses. He held regular study classes for students and teachers. A one-day teaching trip was made to an island which contained lepers and slides of the World Center were shown.
      Literature had been placed in various libraries, the first introductory pamphlet in Korean had been printed and there had been much proclamation with many people hearing of the Faith.
      That year the Bahá'ís in Seoul were having regular firesides with an average attendance of about 12 people. Mr. Smits was pioneering in that city. Despite enrollments in both Kwangju and Seoul the Bahá'ís were not able to form Local Spiritual Assemblies in either city that year. In Seoul they sometimes had difficulty finding a place to hold meetings and ended up by having them at a Salvation Army facility.
      In 1955 Miss Alexander made a historic three-week trip to Korea in her capacity as Auxiliary Board Member, a position to which she had been appointed May 1, 1954 by the Hands of the Cause in Asia. A high point of her trip was meeting her two old friends, Mr. Oh Sang Sun and Mr. Kim Chang-zin.
      Mr. Smits and Mr. Maxwell arranged several meetings for Miss Alexander. Each day there was an activity and when she didn't go out, her hotel room was continually filled with Bahá'ís and their friends. She wrote that she had no trouble communicating with the Koreans. If they couldn't speak English, she communicated with them in Japanese. She wrote that she particularly enjoyed meeting two outstanding Bahá'ís, Mr. Choi and Mr. Kim Young Kyung.
      In 1955 the first youth declared as a result of dedicated teaching in Seoul, Lee Sung Yul, and after him Oh Jung Song, both fifteen years old. They listed their address as Eden's Orphanage in Seoul. Actually the first youth to declare in Korea was Kyung Koo Hyun in 1952 but he was not to be found in later years.
The First Asian Teaching Conference, Nikko, Japan
      During the fall of 1955 the first Asian Teaching Conference was held in Nikko, Japan, sponsored by the National Spiritual Assembly of the United States and hosted by the Tokyo Local Spiritual Assembly. Hand of the Cause Mr. Zikrullah Khádem attended as the representative of the Guardian. There were participants at the conference from several countries. Two Korean Bahá'ís had planned to attend but could not obtain passports to
17
---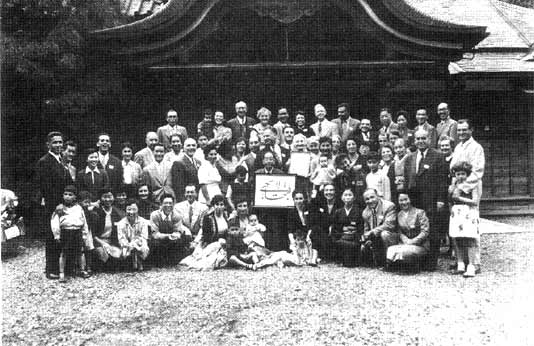 click for larger image
The First International Teaching Conference in Asia
Nikko, Japan 1955

      Hand of the Cause Miss Agnes Alexander, near the middle, is holding a photograph of 'Abdu'l-Bahá. Hand of the Cause Mr. Zikrullah Khádem, who was the representative of the Guardian, is standing in the middle near to Miss Alexander. Mr. William Maxwell, seen standing in the rear, the sixth from the right side, was the only Bahá'í attending from Korea. The Korean friends who wanted to attend could not obtain passports.

      Several Bahá'ís in this photo later lived in or visited Korea: Dr. David and Mrs. Joy Earl, standing at the left of Mr. Maxwell; Mr. Philip Marangella, at the right of Mr. Maxwell; Mr. Noureddin Mumtazi standing front right, in the dark suit; his son Mr. Rouhollah Mumtazi, kneeling nearby; Mr. Abbas Katirai, standing far left; Mr. Ataullah Moghbel, between Mr. Khádem and Miss Alexander; Miss Lecile Webster, standing eighth from the left; and Mrs. Barbara Sims, kneeling sixth (counting children) from the left.

      A letter written on behalf of the Guardian to Mr. Maxwell on October 19, 1955 stated in part, "The Guardian has received very glowing reports of the wonderful accomplishments of the Conference in Japan. He feels that this Conference marked a new point of development of the Faith in Japan, as well as the entire general area. The spirit of confirmation is reaching all those who arise to serve the Faith; and he is sure divine blessings will come upon everyone who attended the Conference and took part in its deliberations, and who will now go forth to win new victories for the Faith."
18

---
leave their country. Mr. Maxwell represented Korea. The conference was a turning point for the Bahá'í Faith in Asia. It was emphasized that there must be twelve Local Spiritual Assemblies in the North East Asia area by Ridván 1956 in order to elect a National Spiritual Assembly for the region the following year, 1957. As there was only a little over six months to go, Bahá'ís in the area were hastily drawing up teaching plans to accomplish this task.
      The first Winter School was held in Kwangju for one week at the end of December, 1955. The number of people registered was 36, which included thirteen new Bahá'ís. The average attendance for all sessions was 24. A variety of subjects was discussed: The Guardianship, The Divine Plan of 'Abdu'l-Bahá, The Ten Year Crusade, Bahá'í Laws, Korean Bahá'í history. Mr. Roe (Roh Chung-il) was present and he described his visit with 'Abdu'l-Bahá. Two public meetings were held at Mr. Maxwell's home, which was the unofficial Center for Kwangju. One meeting was for professors and the other for students.
      Dr. David Earl, who was based in Japan, attended, and according to the participants did "inspired teaching." He also brought a table tennis set which was enjoyed during free time.