Eve Nicklin: She of the Brave Heart, Boris Handal, p75-6
Haifa May 29th 1944.
Dear Bahà'i sister:
Your welcome letter of April 23rd reached the Guardian; and the news you convey in it of the spread of the beloved Faith brought him great joy. The formation of an assembly in Peru was indeed a great victory, and added to the chain of Central and South American Bahà'i another precious link.
He is so happy over the work accomplished by the valiant pioneers — and so proud of the record of the American believers achievements: an assembly in every province and state of N. America and a center in every Latin Republic — and so many spiritual assemblies!
He will especially pray for you in the Shrines, and he is deeply appreciative of all you have done for the Cause these last few years in Peru.
With warm Bahà'i love,
R. Rabbani
Dear and valued co-worker:
Your steadfastness, your devotion, your historic services are assets that I greatly value. I will fervently pray that the Beloved may bless your efforts, guide your steps, cheer your heart and fulfil your dearest wish in His service.
Persevere in your high endeavours and rest assured and be happy.
Your true and grateful brother, Shoghi
1944-05-29 to Eve Nicklin on election of 1st LSA in Peru.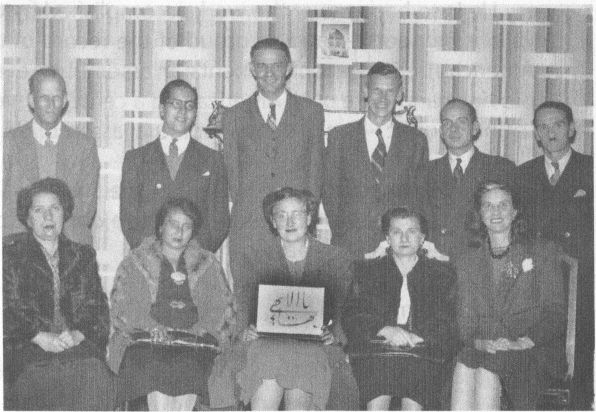 The first Spiritual Assembly of Lima in 1944 with Virginia Orbinson (seated first row right) and Alfredo Barreda (standing second row right) - Eve Nicklin is at the center. Courtesy: Bahá'i World Centre