.
Traces That Remain:
A Pictorial History of the Early Days of the Bahá'í Faith among the Japanese
edited by
Sheridan Sims
.
Chapter 10
10. A Gathering to Meet Tagore of India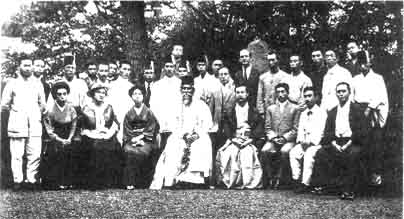 click here for larger image
The Indian poet, educator, dramatist and Nobel Prize Winner, Rabindranath Tagore visited Japan three times. He is in the middle, first row. Miss Alexander is sitting between two women, who were identified by Mrs. Furukawa as being teachers of Japan Women's College. She also thought the picture was taken in Dr. Masujima's garden. Professor Nakagiri of Waseda University is sitting to the right of Tagore. Miss Alexander's friend, Ujaku Akita, is sitting second from the right. This photograph was undated but was probably taken in 1916 during Tagore's first visit. Tagore was aware of the Faith. He had met 'Abdu'l-Bahá in Chicago, and when he met Miss Root in Hong Kong in 1924 he asked her how the Faith was progressing.
.