Traces That Remain:
A Pictorial History of the Early Days of the Bahá'í Faith among the Japanese
edited by
Sheridan Sims
.
Chapter 11
11. Mr. Kikutaro Fukuta
(1887-1959)
In 1915 a Japanese schoolteacher in Tokyo, Mr. Naito, was instructing Dr. Augur in the Japanese language. Mr. Naito told his students that there was an American lady in Tokyo who was teaching a new religion. Four students came with him to see Miss Alexander, among them, Mr. Fukuta, who was eighteen years old. Mr. Fukuta said later he immediately felt that what Miss
35
---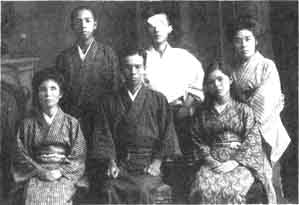 click here for larger image
There is no date for this damaged, but interesting photograph. It was probably taken in 1917. It shows the first three Japanese to become Bahá'ís in Japan. Miss Yuri Mochizuki (later Mrs. Furukawa), right, sitting, Mr. Tokujiro Torii is sitting in the middle. Mr. Fukuta is behind him. Mrs. Torii, who became a Bahá'í in later years is standing. Mr. Torii's brother is standing on the left. Miss Asa Kosugi, who was a friend, is sitting on the left. Miss Kosugi, like Mr. Torii, was blind. She was the first blind woman to attend a university, and later became a prominent educator.

This charming photo of Mr. Fukuta and Mr. Torii was taken in Kyoto in 1917. Mr. Fukuta was twenty and Mr. Torii twenty-three. Mr. Torii is dressed in the Western style; Mr. Fukuta is wearing the Japanese kimono with a modern touch, a Western-style hat.

These two, the first men in Japan to embrace the Faith, brought together by the Faith, remained close friends all their lives.
36
---
Alexander said was the truth. Not long afterward he became the first Japanese in Japan to accept Bahá'u'lláh as the Manifestation for this day. He wrote a touching letter of his belief to 'Abdu'l-Bahá. 'Abdu'l-Bahá answered him. It was the first Tablet to a Japanese in Japan. 'Abdu'l-Bahá wrote, "...Praise be to God that the light of Guidance shone forth, the glass of the heart became illumined and the darkness of ignorance dispelled. The most Great Guidance is a crown the brilliant gems of which will shine upon all the future ages and cycles. If it is placed on the head of a servant, he will become the object of the envy of Kings, for this is an imperishable crown and everlasting sovereignty."