Traces That Remain:
A Pictorial History of the Early Days of the Bahá'í Faith among the Japanese
edited by
Sheridan Sims
.
Chapter 17
17. Japanese Dolls to Sell for the House of Worship
It was 1922. Miss Alexander wished that the Japanese girls attending her meetings might contribute to the building of the House of Worship in Wilmette, Illinois. She bought some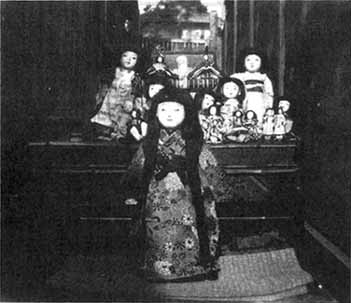 Some of the Japanese doll family, dressed by the Tokyo Bahá'ís and sent for sale to the American Bahá'í community. The proceeds went to the American Mashriqu'l-Adhkar fund.
43
---
Japanese dolls and asked the girls to make kimono for them. She felt the dolls could be sold in America and the proceeds given to the Temple Fund. Many people became interested in this worthy project and eventually over one hundred beautifully dressed dolls were sent to be sold.