Chapter 19
19. Mr. Tokujiro Torii
(1894-1970)
Miss Alexander met Mr. Torii in 1915 when he was a student at the Government School for the Blind. The next year he graduated and was married. He then accepted a teaching post in a small school for the blind in Ejiri, Shizuoka Prefecture. He invited Miss Alexander to visit there and for several days she read to and taught the blind of the Faith. One blind gentleman, Mr. Kyotaro Nakamura, who had spent some time in England, translated for her. He was editor of the only religious journal for the blind in Japan. He asked if she would write an article for the blind women of Japan, who, as he said, had a double darkness, of spirit and body, as nothing had been done for them. She wrote the article in the form of a letter to the blind women telling them of the hope and joy they would find in the Bahá'í Message. Mr. Nakamura translated this article into Japanese Braille and it was sent out. This Braille pamphlet was the first of the Bahá'í Teachings to be circulated among the blind in Japan.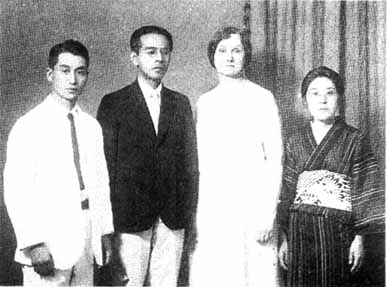 Miss Alexander with Mr. and Mrs. Torii and Mr. Tanaka (left), in Tokyo, 1931.
47
---
Mr. Torii was the first among the blind in Japan to learn Esperanto. In the beginning he and Miss Alexander corresponded in Esperanto and sometimes Esperanto Braille, which she could read and write.
Miss Alexander wrote, "When I first met this blind brother I felt his spirit was reaching for the Light." He accepted the Faith almost immediately upon hearing of it. He wrote to 'Abdu'l-Bahá twice — first in Esperanto and later in English, which he had been studying. 'Abdu'l-Bahá favored him with two Tablets, in one addressing him "0 thou possessor of a seeing heart!" He told Mr. Torii, "Bodily sight is subject to a thousand maladies and ultimately and assuredly will be obscured... But the sight of the heart is illumined . . . everlasting and eternal."
Mr. Torii did vast service for the Faith through the years and translated many of the Writings into Japanese Braille. Much later as president of the Blind Association, he often referred to or wrote about the Faith. In 1966 at the age of seventy-two, Mr. Torii received the nation's highest honor, an Imperial Citation, the Medal of the Third Order, for his work on behalf of the blind.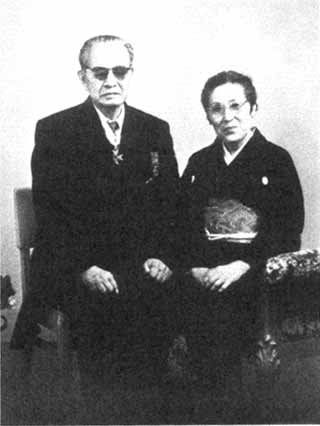 Mr. and Mrs. Tokujiro Torii in 1966. He is wearing his Imperial Citation.
48
---