.
Traces That Remain:
A Pictorial History of the Early Days of the Bahá'í Faith among the Japanese
edited by
Sheridan Sims
.
Chapter 2
2. The First Bahá'í Group in the Pacific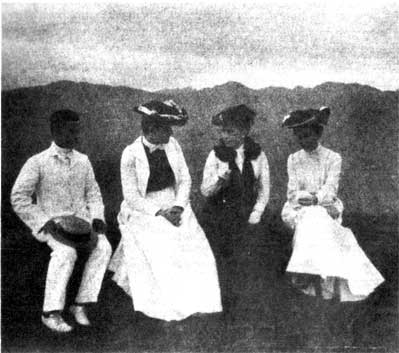 Miss Agnes Alexander wrote of the early days of the Faith in Hawaii, "As there was no home where the group could meet, Miss Muther, Clarence Smith and I would go on Saturday afternoons by trolley car to Pacific Heights. There on the hilltop, surrounded by nature, we would read together the Bahá'í prayers and Tablets which illumined our hearts and minds. Thus began the first Bahá'í meetings in Hawaii."

On this day in April 1903, the first photograph of a Bahá'í meeting in the Pacific was taken. Mr. Yamamoto is on the left. Next is Mrs. Anna Bailey, a Bahá'í from Oakland, California, who joined the group that day. Next are Miss Elizabeth Muther and Miss Alexander, who was the first Bahá'í in the Pacific. Mr. Clarence Smith, Hawaii's second believer took the photograph.
8
---
Hawaii, 1909. This photograph shows five Bahá'ís who responded to 'Abdu'l-Bahá's wish to take the Faith to Japan. Mr. Howard Struven (far left) and C.M. Remey (middle rear) were on an around-the-world teaching trip, the first ever made by Bahá'ís. They then crossed the Pacific Ocean, stopped in Tokyo and spoke at the YMCA, then to Yokohama, Kyoto, Nagasaki and on to China, Burma, India and other countries.

Dr. George Augur (far right) arrived in Japan in 1914. His wife Ruth, (front, far left) joined him on a later trip. They were in Japan off and on until 1919.

Miss Alexander (sitting next to Mrs. Augur) arrived in Japan in 1914 several months after Dr. Augur. Between 1914 and 1967, when Miss Alexander left for the last time, she spent a total of about thirty-one years teaching the Faith in Japan. In 1957 the Guardian appointed her a Hand of the Cause and called her "an exemplary pioneer."
9
---
.