Chapter 20
20. Akira Torii
1918-1935
There had been Japanese Bahá'í children in the United States— the Yamamoto children — but Akira Torii was the first "second generation" Bahá'í child in Japan. Mr. Torii informed 'Abdu'l-Bahá of Akira's birth and asked Him to pray for the child. 'Abdu'l-Bahá answered, "Convey to thy respected wife my greetings and my message and the same to thy young babe, Akira, whose name may be ever blessed for it is quite an appropriate one." Akira means "shining light" in Japanese.
Akira was extremely fond of Miss Alexander, whom he called "obasan" (aunt). He diligently studied English so he could write to her. He was his father's helper and companion, and it was a tragic time when the boy sickened and died at age seventeen.
Miss Alexander was in Hawaii when she heard of Akira's death. She immediately wrote to Mr. and Mrs. Torii, "... our blessed Akira is now in His Heavenly Realm, and although we cannot see him with our human eyes, yet he is not far from those who loved him, and still love him, and by our prayers we may know that there is a meeting and that we can help him as well as he help us. That is the blessing." She also sent them words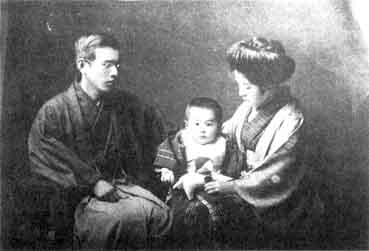 click here for larger image
Akira Torii with his parents in 1919.
49
---
of consolation from the Writings.
Mr. Torii wrote and had printed a book in memory of his only child. The name of the book was "Eien no Reimei" (Eternal Dawn). In the frontispiece was a copy of the original Tablet (in Persian) of 'Abdu'l-Bahá to Mr. Torii with the English translation which mentions Akira. At the end of the book was quoted, "0 thou who art the Lord of all men! Grant then, 0 my God, that Thy servant may consort with Thy chosen ones, Thy saints and Thy Messengers in heavenly places that the pen cannot tell nor the tongue recount." (from a prayer by Bahá'u'lláh)
"Bahá'u'lláh and the New Era" had been translated into Japanese by Mr. Daiun Inouye some years earlier. Mr. Torii transcribed it into Japanese Braille in 1936 as a memorial to his son. The book, seven hundred and seventy pages in three volumes, was sent to the libraries of various schools for the blind and was given to blind persons thereby bringing Light to those in Japan who could not see.
One set of the Japanese Braille edition of "Bahá'u'lláh and the New Era" was sent to the Guardian. He expressed "grateful appreciation and thanks" to Mr. Torii for his service and wrote that the books were to be placed in the Mansion of Bahá'u'lláh at Bahji.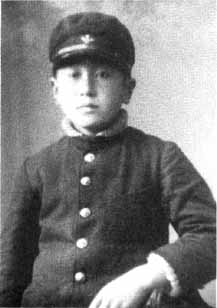 Akira ("whose name may be ever blessed') at age eleven wearing his schoolboy uniform.
50
---