Chapter 22
22. Mr. Daiun Inouye and Mr. Sensui Saiki
In 1916 Miss Alexander attended a Buddhist festival in Kobe. There she met Mr. Daiun Inouye, a young Buddhist priest who could speak English. He was immediately attracted to the Faith and delved deeply into it. When he read the only Bahá'í pamphlet in Japanese, he said, "This is what I believe."
He did much service in those early days as he began translating Bahá'í publications into Japanese. His most notable service was some years later, in 1932, when he translated "Bahá'u'lláh and the New Era" into Japanese as a memorial to his daughter,
54
---
who had passed away at age fifteen. The book was printed the following year. The Guardian, Shoghi Effendi, wrote his congratulations on the achievement and ordered one hundred copies to be sent to the Holy Land. The Guardian wrote that when the books arrived he would place them side by side with fourteen other translated editions which he had. They can still be seen in the Holy Land.
Mr. Inouye spent some time with Martha Root when she visited Japan in 1937. He resigned from the priesthood and wrote that he would be free to spend his time propagating the Faith.
Not long after, World War II broke out and the Bahá'í community was scattered with no activity for several years.
The first American Bahá'ís to come to Japan after the war, in the late 1940s, located some of the Bahá'ís, including Mr. Inouye but unfortunately he did not arise to his former activity.
'Abdu'l-Bahá had mentioned the names of Mr. Inouye and Mr. Saiki together, in 1918 and in 1920. He told Miss Alexander to convey His love to them.
Mr. Inouye's name was on the list of confirmed Bahá'ís Miss Alexander sent to the Guardian in 1922. However, there is no record that Mr. Saiki was considered as a Bahá'í. At one time he had been a Christian evangelist. He was a writer and mentioned the Faith in one of his books. Apparently he wrote to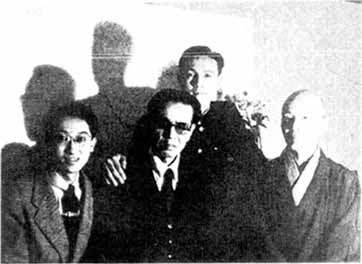 We do not have photographs of Mr. Inouye or Mr. Saiki in the early years. This was taken in 1948. It shows Mr. Robert Imagire, American pioneer to Japan, Mr. Torii and Mr. Inouye. The man behind is unidentified.
55
---
'Abdu'l-Bahá that he had invented a new Japanese writing.
'Abdu'l-Bahá answered, praising his efforts, but He advised Mr. Saiki to concentrate all his energy in spreading the Faith.