Traces That Remain:
A Pictorial History of the Early Days of the Bahá'í Faith among the Japanese
edited by
Sheridan Sims
.
Chapter 23
23. Mrs. Ida Finch
Mrs. Finch was a sweet motherly Bahá'í from Seattle, Washington, U.S., who spent almost four years in Japan between 1919 and 1923. She was sponsored by Mr. Roy Wilhelm. Mrs. Finch had a love for the Japanese and had a great effect on the teaching efforts in those early years.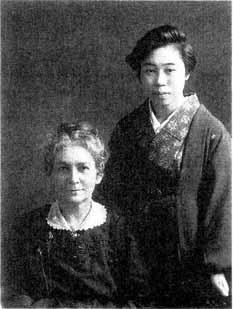 This photograph taken in 1923, shows Mrs. Finch with Miss Mikae Komatsu (later Mrs. Tadako Arakawa), who was one of three Japanese women to receive a Tablet from 'Abdu'l-Bahá. Miss Komatsu married and moved to Kobe. Miss Alexander kept in touch with her until 1937, when, due to the rise of the militarists Miss Alexander was advised to leave Japan.

Mrs. Arakawa was located again in Tokyo in the 1960s and she became an active member of the community and can be seen in group pictures in that later era. She gave this photograph to the compiler in the late 1970s.
56
---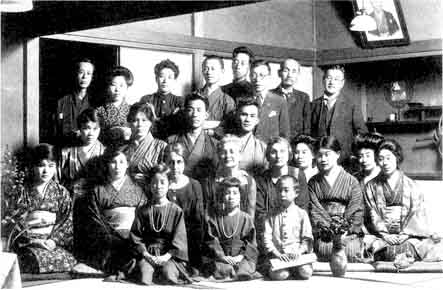 click here for larger image
This photograph was found among Miss Alexander's effects. Nothing indicated the occasion, but it was probably taken about 1922. Mrs. Finch is in the middle and Miss Alexander to the right of her. Mr. Futakami is behind them. Mrs. Takeshita, who was a close friend of Mrs. Finch, is sitting second from the left. Miss Tanaka is sitting second from the right.


click here for larger image

This was taken in April 1923 at the home of one of the early Bahá'ís, Mrs. Kanae Takeshita, during Miss Martha Root's second visit to Japan. Top, Mrs. Finch, Miss Alexander and Mr. Kenkichi Futakami. Bottom, Miss Root and Mrs. Takeshita. Mr. Futakami had been a student/helper of Mrs. Finch. 'Abdu'l-Bahá addressed two Tablets to him in 1921, advising him to "rise above worldly attachments and restricted thought to the realm of the Kingdom..." Mr. Futakami married Miss Hide Tanaka one of the girls who actively attended Bahá'í meetings of that era and helped with the homeless children at the time of the earthquake.
57
---