Traces That Remain:
A Pictorial History of the Early Days of the Bahá'í Faith among the Japanese
edited by
Sheridan Sims
.
Chapter 27
27. Mr. Susumu Aibara
Mr. Aibara was the first Esperantist at Keio University where he was a student. One day in 1922 he visited Miss Alexander. He had heard that she could speak Esperanto so he invited her to speak at a university Esperanto meeting. He became interested in the Faith and used it as a subject for his graduation thesis. Both Shoghi Effendi and Dr. Esslemont sent him Bahá'í literature. His thesis was in Japanese, with the exception of the last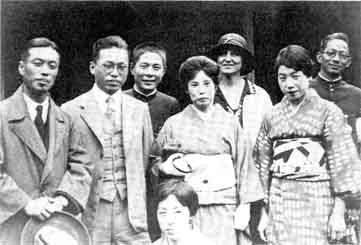 click here for larger image
Mr. Aibara, second from the left, the young Bahá'í whose brilliant career was cut short at age thirty-two. He is seen here with Miss Alexander (rear). Mrs. Takeshita is standing next to Mr. Aibara. This photograph was taken at an Esperanto meeting in 1929.
65
---
nine pages which were in Esperanto explaining the Bahá'í Faith. He had the thesis bound as a book and through this means professors and students of the university became acquainted with the Faith.
After this young man's graduation he went to work for the Tokyo Branch of the League of Nations, where he showed leadership qualities.
Mr. Aibara died suddenly a few years later, leaving a wife and baby girl. Miss Alexander was shocked at the sudden passing of her good friend, but was consoled when the Guardian wrote (through his secretary) that Mr. Aibara was now "in a higher spiritual realm enjoying a blissful being far beyond our powers to appreciate."
Many years later Mrs. Aibara accidentally came into contact with a Bahá'í. She was so happy to meet Bahá'ís again that she quickly enrolled as a member of the Japan Bahá'í community.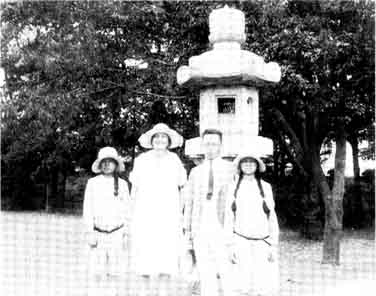 click here for larger image
This photograph was taken near Yasukuni Shrine in 1929. It shows Miss Alexander, Mr. Aibara and two friends of theirs, twin sisters, ardent Esperantists. Miss Alexander sent the picture to be published in the American Star of the West, as an example of young Japanese women. They were among the first women in Japan to enter a medical school.
66
---