Chapter 31
31. The Emperor of Japan
Emperor Hirohito of Japan received two communications from Shoghi Effendi. On both occasions presentation was made possible by Dr. R. Masujima, who was indeed a good friend of the Bahá'ís.
At the time of the Emperor's coronation in 1928 seven specially bound volumes of Bahá'í books were prepared to be presented to the Emperor as a gift from some American Bahá'ís. Shoghi Effendi was asked to write something to accompany the books. He wrote:
"May the perusal of Bahá'í literature enable Your Imperial Majesty to appreciate the sublimity and penetrative power of Bahá'u'lláh's Revelation and inspire you on this auspicious occasion to arise for its worldwide recognition and triumph."
The books arrived after the coronation ceremonies so the presentation was delayed. On May 22, the following year, Dr. Masujima received a letter from the Minister of the Imperial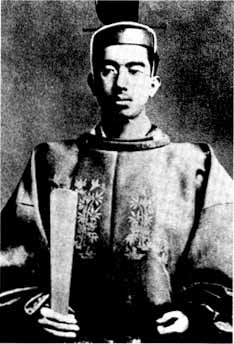 Emperor Hirohito of Japan about the time of his coronation, 1928.
81
---
Household stating that the seven books, which were named, had been presented to the Emperor that day. Dr. Masujima wrote later, "The Bahá'í publications now form part of His Majesty's library ..."
In November 1930 the great Bahá'í teacher Miss Martha Root applied for an appointment to offer the Emperor a memento accompanied by a good-will message from Shoghi Effendi. The Imperial Household did not permit an interview but did accept the gifts which were presented to the Emperor, a small Persian rug and some Holy Writings in Persian script in the form of a beautiful bird. Accompanying the gifts was a cable from Shoghi Effendi:
"Martha Root care American Embassy Tokyo. Kindly transmit His Imperial Majesty, Tokyo, Japan, on behalf of myself and Bahá'ís world over, expression of our deepest love as well as assurance of heartfelt prayers for his well-being and prosperity of his ancient realm."
Japan, after recovery from the devastation of World War II, shows exactly that — great prosperity, and the Emperor, active and healthy until his final year had the longest reign (December 25, 1926 to January 7,1989) of any sovereign in Japan.