Chapter 32
32. Japan Religious Conference
The Japan Religious Conference was held in June 1928 in commemoration of the Enthronement Ceremonies of His Majesty the Emperor of Japan. About 1500 delegates attended, Buddhists, Christians, Shintoists and others. Three foreigners were invited to speak, including Miss Alexander who was the Bahá'í representative.
Greetings were sent from the conference to religious associations throughout the world. In reply to his greeting, Shoghi Effendi expressed his keen interest in the work of the Association and the assurance of his hope for its success.
The presiding officer, Rev. Kozaki spoke of the Parliament of Religions which he had attended in Chicago, Illinois, in 1893. It was at that Parliament of Religions that the Bahá'í Faith was
82
---
first mentioned publicly in America.
After the conference, the organizers printed a book with all the speeches. A search in later years found one of the organizers, Rev. Nobuichiro Imaoka, a gentleman of over one hundred years, who remembered Miss Alexander quite well, and who provided copies of the book for the Japan Bahá'í archives. Unfortunately the letter from the Guardian, along with other material, was not preserved.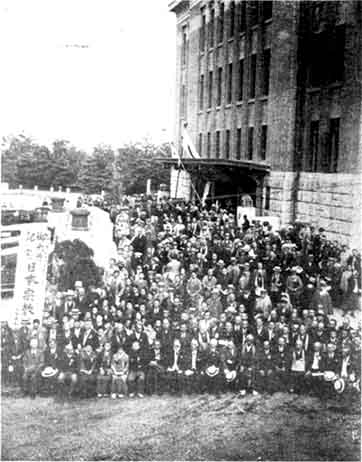 click here for larger image
Delegates to the Japan Religious Conference, 1928.
83
---