Traces That Remain:
A Pictorial History of the Early Days of the Bahá'í Faith among the Japanese
edited by
Sheridan Sims
.
Chapter 34
34. Beatrice Erskine Lane Suzuki
Miss Lane was the daughter of Mrs. Emma Erskine Hahn, one of the early Bahá'ís on the East Coast of the United States. Miss Lane met the famous Zen Buddhist scholar Daisetz Suzuki when he went to the United States in the early 1900s for study and lecturing.
84
---
In 1911 she came to Japan and they were married in Yokohama. Through the years Dr. Suzuki produced over one hundred translations and works in both English and Japanese on Buddhism. He did much to introduce Zen Buddhism to the West. His wife Beatrice was also credited with being somewhat of an authority on certain aspects of Buddhism. She died in 1939 and he many years later.
Although there are scarcely any records of Mrs. Suzuki in the early days of the Faith in Japan, we know that she and Miss Alexander were acquainted. Dr. Suzuki in later years mentioned to his good friend, the famous British potter Mr. Bernard Leach, that his wife was a Bahá'í.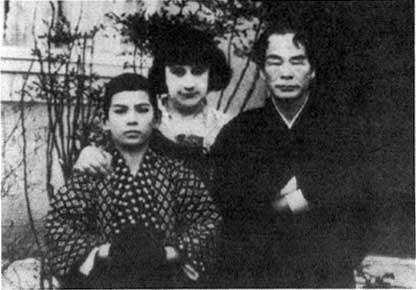 Dr. Daisetz Suzuki and his Bahá'í wife Beatrice, with their adopted son Victor. This photograph was taken about 1925.