Traces That Remain:
A Pictorial History of the Early Days of the Bahá'í Faith among the Japanese
edited by
Sheridan Sims
.
Chapter 35
35. Two Persian Bahá'ís Visit Japan
Miss Alexander wrote that in November 1932, the Bahá'ís of Tokyo were visited by Mr. H. Touty, a Bahá'í business man living in Shanghai. He was the first Persian to be greeted by the Bahá'í community in Japan. He brought a spiritual fragrance with him and told stories of his visit to Akka during the time
85
---
of 'Abdu'l-Bahá.
During the fall of 1935 Mr. Husayn Uskuli also from Shanghai, visited Japan and attended several Bahá'í gatherings.
Mr. Uskuli's daughter and son-in-law, Mr. and Mrs. S.A. Suleimani, were also living in Shanghai. Conditions worsened considerably in China after World War II so in 1953 Mr. and Mrs. Suleimani pioneered to Taiwan and established the Faith there. Mr. Uskuli remained in Shanghai, the only known Bahá'í in China at that time. He died in Shanghai in 1956.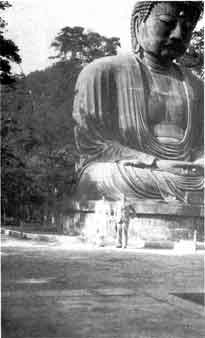 click here for larger image
Miss Alexander with Mr. H. Touty at Kamakura in 1932.
86
---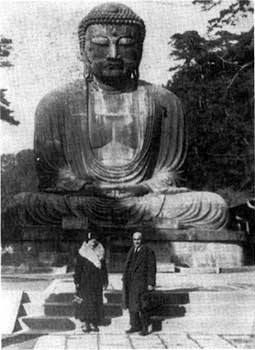 Three years later Miss Alexander accompanied Mr. Husayn Uskuli to see the Daibutsu in Kamakura.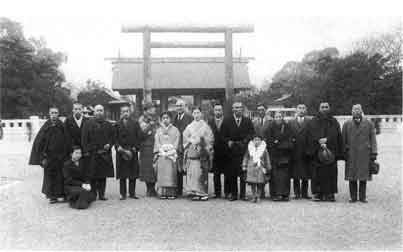 click here for larger image
This photograph was not explained by Miss Alexander. She and Mr. Uskuli can be seen in the background. Apparently they joined a tour group that day. Not so different from modern times except for the more traditional clothing. The young woman kneeling is probably the tour guide.
87
---