Chapter 36
36. Miss Alexander Introduces the Faith in Hokkaido
In the summer of 1932 Miss Alexander was invited to the northern island of Hokkaido by Mr. Tadashi Watanabe, an ardent Esperantist who lived in Tomakomai. Mr. Watanabe had heard of the Faith while on a trip to the United States. He had gone to an Esperanto meeting in Seattle and met some Bahá'ís, among whom was Mrs. Ida Finch. When he returned to Japan he looked up Miss Alexander.
He started two mimeographed monthly papers in Esperanto. In one of them, his personal publication, he introduced material from "Paris Talks of 'Abdu'l-Bahá".
At the welcome meeting in Tomakomai Miss Alexander spoke about the Faith in Esperanto, which Mr. Watanabe translated into Japanese.
From Tomakomai Miss Alexander and Mr. Watanabe attended an Esperanto Congress in Yamabe. At that meeting she spoke of the Bahá'í Teachings and Esperanto. They visited two newspapers in Asahigawa, and then went on to Sapporo. The editor of the Hokkai Times was about to print an article about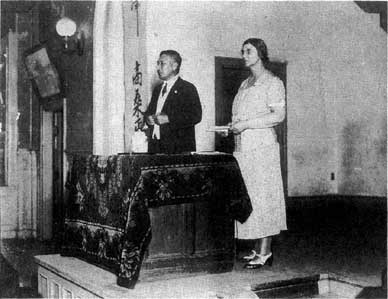 The first mention of the Faith in Hokkaido, 1932. Miss Alexander is speaking at an Esperanto meeting in Tomakomai.
88
---
the Esperanto Congress and he added something on the Bahá'í Teachings.
In Hakodate the editor of the Hakodate Shimbun (newspaper) arranged a public talk in the Town Hall for Miss Alexander.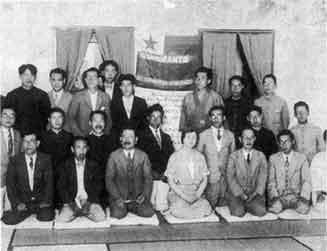 click here for larger image
Mr. Watanabe, who organized the meeting is in the first row, far left. The mayor of Tomakomai is sitting left of Miss Alexander.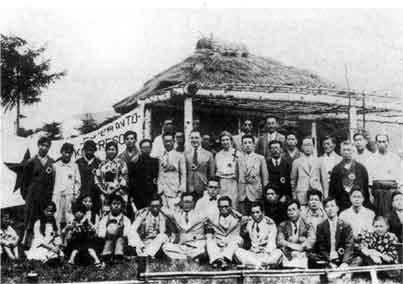 click here for larger image
Esperanto Congress in Yamabe, Hokkaido. Miss Alexander can be seen standing in the middle right.
89
---
There were several articles in newspapers about the Faith and Miss Alexander. One had pictures of 'Abdu'l-Bahá and the Bahá'í Temple in the United States.
Miss Alexander wrote that she felt the introduction of the Faith in Hokkaido was accomplished through the Bahá'í principle of having an auxiliary language.