Traces That Remain:
A Pictorial History of the Early Days of the Bahá'í Faith among the Japanese
edited by
Sheridan Sims
.
Chapter 42
42. A Tea Party
On November 26, 1936, Miss Alexander was asked to speak at an Esperanto meeting at the Seikei School in Tokyo. She was most happy to respond to the invitation because it was the anniversary of her spiritual birthday, November 26, 1900, when
click here for larger image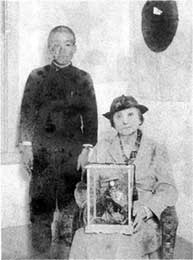 Seikei School tea party. The doll was presented to her in appreciation of the many favors she had done for the school.
111
---
she was guided to accept Bahá'u'lláh as the Manifestation for this day. She spoke in Esperanto of the significance of that day to her, and also spoke about the need for an international auxiliary language. Her talk was translated into Japanese.
After the meeting the school gave a tea party in appreciation and presented her with a Japanese dancing doll in a glass case. When she left Japan the following spring to go to Haifa for her pilgrimage, she took the doll in its case packed in a box, and presented it to the Guardian and his bride.