Traces That Remain:
A Pictorial History of the Early Days of the Bahá'í Faith among the Japanese
edited by
Sheridan Sims
.
Chapter 43
43. Mr. Fujita's Mother
In December 1936 the Guardian cabled Miss Alexander to visit Mr. Saichiro Fujita's mother who was ill. Mr. Fujita was residing in the Holy Land and he had not seen his mother for two years. The Fujita family lived in Yamaguchi Prefecture which was an 18-hour trip from Tokyo. By the time Miss Alexander arrived there the mother had recovered. It was a great joy for Miss Alexander to be with the family and they all posed for a photograph to send to Mr. Fujita.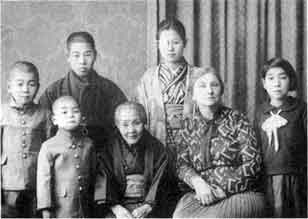 click here for larger image
Miss Alexander with Mr. Fujita's mother and his nieces and nephews. Hideo Fujita is at the far left.
112
---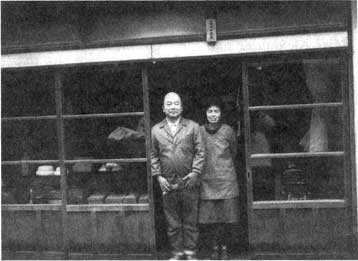 Many years later, in 1980, Hideo Fujita's photograph was taken with his wife in front of the original Fujita family's rice shop.