.
Traces That Remain:
A Pictorial History of the Early Days of the Bahá'í Faith among the Japanese
edited by
Sheridan Sims
.
Chapter 45
45. In the Holy Land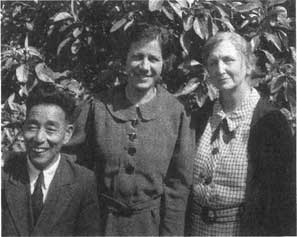 This photograph of Mr. Fujita, Miss Adelaide Sharp and Miss Alexander was taken by Mr. W. S. Maxwell in Haifa in 1937. Miss Alexander and Miss Sharp were there on pilgrimage. Miss Alexander had waited many years for the privilege of being received by the Guardian of the Bahá'í Faith in the Holy Land.
114
---
.