.
Traces That Remain:
A Pictorial History of the Early Days of the Bahá'í Faith among the Japanese
edited by
Sheridan Sims
.
Chapter 48
48. At Kudan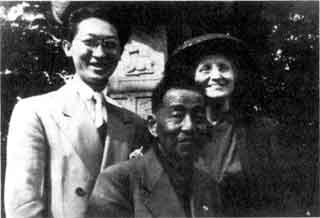 click here for larger image
This was one of the first photographs of Miss Alexander after she returned to Japan following World War II. It was taken May 23, 1950 and shows Mr. Robert Imagire, who came to Japan in 1947 at the Guardian's request, Mr. Saichiro Fujita and Miss Alexander. Miss Alexander sent this to the Guardian. She wrote on the back that it was taken at Kudan (which means nine steps), the area in Tokyo where the Faith was first established in Japan.
120
---
.