Chapter 5
5. The First Public Meeting In Japan
The first Bahá'í public meeting in Japan was held in 1909 at the Tokyo YMCA building, one of the largest buildings in Tokyo at that time. Mr. Howard Struven and Mr. C.M. Remey were on their round-the-world teaching trip and Japan was their first stop after Hawaii. About seventy-five people came to the meeting, Japanese, Hindus, Americans and an English lady.
After traveling through and teaching in several countries the two men eventually arrived in the Holy Land, and in the Presence of 'Abdu'l-Bahá. Some years later Mr. Struven wrote
24
---
to a friend in Japan, "How well I remember sitting in 'Abdu'l-Bahá's bedroom, with Him gazing out of the window, when He turned and said, 'You did not know how 'Abdu'l-Bahá was watching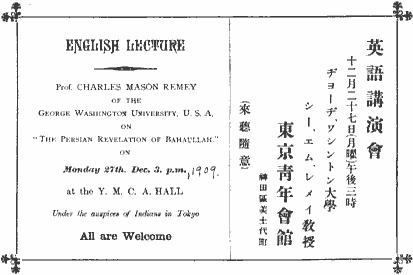 click here for larger image
The invitation to the first Bahá'í meeting in Japan. The year was not printed and Miss Alexander wrote it in later in this copy, the only one we know of in existence.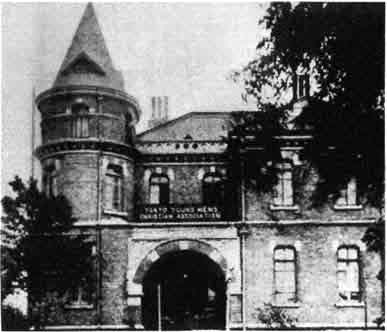 The original YMCA building in Tokyo.
25
---
over you while you traveled and met the hardships to spread the Cause.'"
The original YMCA building was destroyed during the 1923 Kanto earthquake. Until that time many Bahá'í meetings had been held there. Another building was constructed on the same site in 1928 and continued to be used periodically for Bahá'í meetings. Dr. Augur, Miss Martha Root and Mrs. Keith Ransom-Kehler all spoke at the "Y." Miss Alexander had English classes there during which she taught the Faith. She wrote of those times, "So many opportunities were given to me to speak of the Cause until I felt the stones of the building must vibrate with God's Message."