Chapter 51
51. The First Persian Pioneer Families Settle in Japan, 1953
The first two Persian families to pioneer to Japan were the Moghbel family (three members) and the Katirai family (four members).
There had been Persian Bahá'í visitors to Japan previously, notably Mr. Y.A. Rafaat, who was the first Persian Bahá'í to visit Japan in the post-war period. He intended to return to pioneer
126
---
but could not do so until the summer of 1953, when the Teheran Local Spiritual Assembly transferred him.
The Moghbel family and the Katirai family arrived with proper visas, with the intention of staying.
At that time there were no direct flights from Iran to Japan, and no Japanese Embassy in Iran to issue visas.
First they went to Pakistan to get plane tickets, and commercial visas as they intended to do business in Japan. The United States Occupation had ended the year before and Japan was opening up somewhat.
The National Spiritual Assembly of Pakistan sent a cable to the Local Spiritual Assembly of Tokyo that the two Persian families would be arriving.
After an exhausting flight by propeller plane they landed at Haneda Airport near Tokyo, March 21, 1953. They were met by assembly members Mr. Witzel and Mr. Kadota, and taken to a hotel in Tokyo where there was a Naw-Rúz party of forty people. The two families recall how happy and elated they were, and what a joyous beginning of their pioneer effort it was.
Later that year and during subsequent years several other Persian families settled in Japan.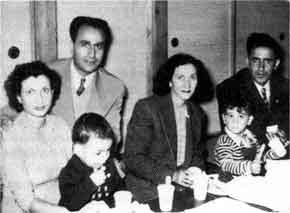 click here for larger image
Naw-Rúz, 1953, in Tokyo. The first Persian families arrive. From the left: Mrs. Mahin Moghbel, holding Zafar; Mr. Ataullah Moghbel; Mrs. Rezvanieh Katirai and Mr. Abbas Katirai with Foad. Farzad Katirai, who was an infant, was sleeping nearby.
127
---