Traces That Remain:
A Pictorial History of the Early Days of the Bahá'í Faith among the Japanese
edited by
Sheridan Sims
.
Chapter 59
59. The First Bahá'í Marriage of Japanese Believers
The marriage of Miss Isao Sakamoto and Mr. Michitoshi Zenimoto in January 1956 was the first Bahá'í marriage between Japanese Bahá'ís in Japan, although a pioneer couple had married in Japan earlier.
Miss Alexander was a prominent guest at the wedding as Mr. Zenimoto considered her to be his spiritual mother. Mr. Zenimoto recalls, "Miss Alexander was elated during the wedding. She insisted that I must have a daughter and call her Mary, and she went on to tell me that her dearest friend and spiritual mother,
151
---
beloved May Maxwell, had had a lovely little daughter whom she named Mary.
"I protested to Miss Alexander that I had only just married, but that I appreciated her sentiment. Ten years later a daughter was born to my wife and me. There was no question as to her name, Mari, the Japanese version of Mary.
"When Amatu'l-Bahá Ruhiyyih Khanum (the original Mary) blessed our home with her presence in 1979, she was very interested when we told her the story, because from her early childhood she had known and loved Miss Alexander."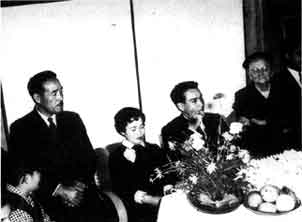 click here for larger image
At the wedding party of Mr. and Mrs. Michitoshi Zenimoto, at the Amagasaki Bahá'í Center, January 1956. To the left is Mr. Zenimoto's father. To the right is Miss Alexander.
152
---