Chapter 64
64. Expansion in the Late 1950s
The following two photographs, taken about 1959, show meetings on Shodo Island and Shikoku. These meetings, and many others, were arranged in response to the goal of taking the Faith to other islands.
click here for larger image
This was outside a school on Shodo Island where Mr. and Mrs. Katirai, standing on the right, went for teaching. They were accompanied by Mr. Toshikazu Taniguchi, a fairly new Bahá'í from Takamatsu, standing to the left with his arm on Farzad Katirai. Next standing is Mr. Tatsuo Shiomoto and Mr. Masazo Odani. Mr. and Mrs. Shiomoto were the first Bahá'ís of Shodo Island, 1959.
176
---
This was taken at one of the early meetings in Takamatsu, Shikoku Island. Mr. and Mrs. Katirai are seated in front. In the back row, fourth from the left is Mr. Ando, the first Bahá'í of Shikoku. Mr. Odani is standing third from the right. Mr. Hisashi Taniguchi, father of Toshikazu, is standing between Mr. Odani and Mr. Shiomoto who had accompanied the Katirais. Mr. Shiomoto introduced the Katirais to the Taniguchi family. Four of them became Bahá'ís, active through the years.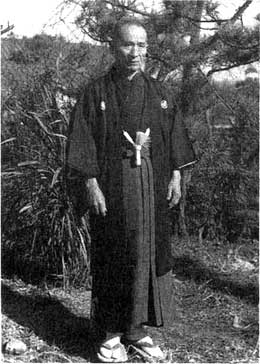 Mr. Kota Nakahama
177
---
Mr. Nakahama was one of the early Akashi Bahá'ís and one of the first to accompany a pioneer travel-teaching. In 1959 Mr. N. Mumtazi was planning a teaching trip to Shodo Island and he invited Mr. Nakahama to accompany him. They went to Sakate and Tonosho meeting people all the way. At Tonosho Mr. Nakahama reported that five of them, Mr. Mumtazi, Mr. and Mrs. Shiomoto, Mr. Ando and himself sat around a "hibachi", a small heater using charcoal, and read the first three chapters of "Paris Talks." Mr. Shiomoto and Mr. Ando had become Bahá'ís previously. They all felt a deep companionship.
They then went to Takamatsu and Toyoshima to find people to talk to. Then on to Uno and Himeji, where Mr. Tetsukawa became the first person in Himeji to become a Bahá'í.
Mr. Nakahama noted that although they were visiting out-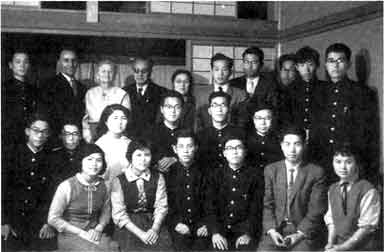 click here for larger image
A discussion of the Faith among students of Shimane University in Matsue, May 1959. Mr. Moghbel, standing second from the left, accompanied Miss Alexander (next to Mr. Moghbel) and Mr. and Mrs. Torii, standing next to Miss Alexander. Miss Alexander and the Toriis had gone to Matsue for a conference for the blind.

At the end of that year, the first believer Mr. Akira Yamamoto, standing far left, enrolled in the Faith.
178
---
of-the-way places and inaccessible small islands, Mr. Mumtazi showed no trace of weariness, and that people were stimulated by his love and enthusiasm.
After this trip Mr. Nakahama wrote that he felt there was a love and sincerity which transcended race and he could see that this could be a foundation for the oneness of mankind.
Mr. Nakahama made a chart in Japanese of Bahá'í history shown chronologically. It was printed and was a welcome addition for deepening.
Teaching in Matsue
Matsue is an example of teaching in one of the goal cities during 1958, 1959 and 1960. It is in Shimane Prefecture which is along the west side of Honshu where no teaching had as yet been done. Several Bahá'ís made trips to Matsue during those years. The first was Mr. Moghbel, who went in 1958. The second time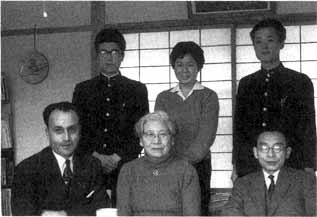 click here for larger image
This photograph was taken at the home of Professor Mizoue in 1960. She is seated between Mr. Moghbel and Mr. Masazo Odani. Mr. Shimabara is standing, left. Miss Matsuura is in the middle and Mr. Yamamoto is standing to the right. It was the second trip for Miss Matsuura. She and Mr. Odani were among the first Japanese Bahá'ís to arise to actively teach the Faith in other cities. Professor Mizoue, and the student Mr. Shimabara, were friends of Bahá'ís but did not become Bahá'ís.
179
---
he went was with Miss Alexander and Mr. Torii. Matsue was not too far from Hiroshima and could be approached from there.
In 1959 Mr. William Smits, a pioneer in Korea, made a teaching trip to Japan. Among the places he visited was Matsue. In that city was a man Mr. Asano, who had heard of the Faith from Dr. Earl. Mr. Asano introduced Mr. Smits to many Shimane University students, among them was Mr. Yamamoto who was attracted to the Faith.
Miss Noriko Matsuura was a student at Hiroshima University in 1959, when she made her first teaching trip to Matsue alone. Mr. Yamamoto met her at the station and took her to meet his family and other students. Some of the students had previously met Miss Alexander and Mr. Ataullah Moghbel.
After a meeting during which the Faith was discussed in depth, the group went to see an exhibition of the work of the famous potter, Mr. Bernard Leach. Miss Matsuura happened to have a copy of Mr. Leach's pamphlet, "My Religious Faith" in which he describes how and why he became Bahá'í.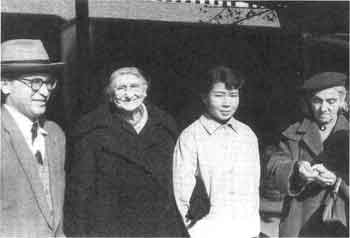 click here for larger image
Seeing Miss Alexander off at Hiroshima station in 1958. Miss Alexander, second from the left, often visited Hiroshima. From the left are Hiroshima residents, Mr. Sharif Sharifi, Miss Noriko Matsuura and Mrs. Bazaieh Assassi. It was the next year that Miss Matsuura went to Matsue alone. Miss Alexander wrote to her that she was an example for other Japanese women.
180
---