Chapter 7
7. Dr. George Jacob Augur
Dr. Augur was a homeopathic physician who accepted the Faith while living in Hawaii. He was favored with six Tablets from 'Abdu'l-Bahá. He had visited Japan and had become so attracted to the country that he wished to return to teach the Faith. When he wrote of his desire, 'Abdu'l-Bahá answered ".... Travel thou to Japan and lay there the foundation of the Cause
Disciple of 'Abdu'l-Bahá, Dr. George Jacob Augur (1853-1927)
30
---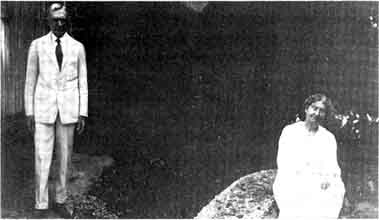 Dr. Augur and his wife Ruth.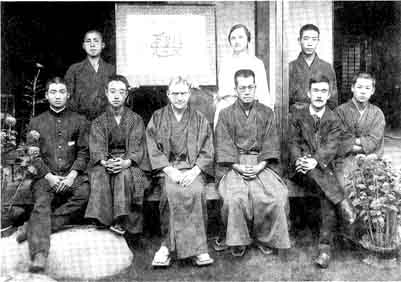 click here for larger image
Tokyo, October 1916. At the top left is Mr. Kikutaro Fukuta, the first Japanese living in Japan to declare his Faith. Next is Miss Alexander, then Mr. Ishida. Bottom row: Mr. Yoshio Tanaka, who became a Bahá'í, and Mr. Masaru Mizutani, Dr. Augur, Mr. Yuzuru Kawai, then the famous writer Mr. Ujaku Akita and Mr. Morishita. Morishita, Ishida and Kawai were Waseda University students who were friends of Akita. All attended Bahá'í meetings held by Miss Alexander and Dr. Augur.

Mr. Tanaka recalls that he met Dr. Augur in a public bath. Dr. Augur was already wearing the Japanese dress, the kimono. Although they didn't have much communication at that time, Dr. Augur recommended that Mr. Tanaka visit Miss Alexander.
31
---
of God ... summon the people to the Kingdom of God. Japan has great capacity but there needs be a teacher who will speak by the confirmations of the Holy Spirit." And in another Tablet, "...Unfurl thou the divine Flag in Tokyo and cry at the top of thy voice: '0 ye people! The Sun of Reality hath appeared...' With a resounding voice, and a miraculous power, and with the magnetism of the Love of God, teach thou the Cause of God, and rest assured that the Holy Spirit shall confirm thee."
In 1914, a few months before Miss Alexander arrived, Dr. Augur came to Tokyo to stay. He wrote one of the early pamphlets in Japan quoting part of one of his Tablets from 'Abdu'l-Bahá.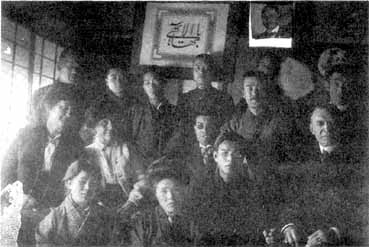 click here for larger image
This photograph from Mr. Torii's album was designated as a farewell party for the Augurs. It was probably taken in 1919.

In the front row is Miss Mochizuki, Mrs. Torii, Mr. Torii and Dr. Augur. In the second row is Mrs. Augur. Sitting next to her is thought to be a friend, Mrs. Hodgson. Some of the others in the photo were attracted to the Faith and continued to come to meetings. Among those, Mr. Akita (with mustache under the inset), did much service for the Faith as he translated and wrote articles about the Faith which were published. However, in later years he became politically motivated and lost his connection with the Faith.