.
Traces That Remain:
A Pictorial History of the Early Days of the Bahá'í Faith among the Japanese
edited by
Sheridan Sims
.
Chapter 70
70. At the London Congress, 1963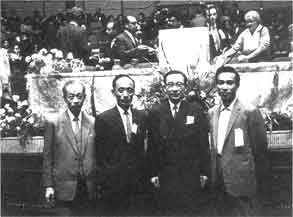 click here for larger image
Many Bahá'ís from North East Asia attended the Congress. Shown
198
---
here in Albert Hall, London, the site of the Congress, are Dr. Ikuo Mizuno; Mr. Kim Cha'ang-jin, early believer of Korea; Mr. Masazo Odani and Mr. Michitoshi Zenimoto. The three Japanese were members of the National Spiritual Assembly of North East Asia and just a few days earlier had participated in the first International Convention in the Holy Land.
.