Chapter 75
75. Hand of the Cause Miss Alexander Spends Two Years in the Hospital in Tokyo
Two months after the Nagoya Esperanto Congress in 1965, Miss Alexander went from her home in Kyoto to attend the 50th Esperanto Congress in Tokyo.
A day or so before the opening of the meeting, she fell in her room at International House and broke a bone in her hip. She was taken to the Jikei Idai Hospital for treatment. As it happened she stayed there for a little over two years.
The Bahá'ís were grateful that during that trying time Miss Alexander suffered no pain, although she could not walk.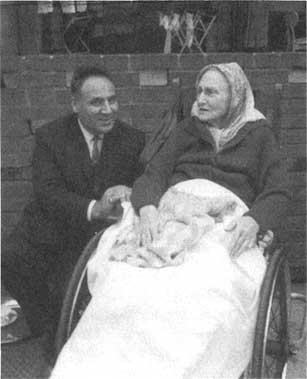 Hand of the Cause Dr. Muhajir and Miss Alexander, 1965, at the Jikei Idai Hospital where she was confined the last two years she was in Japan. Dr. Muhajir requested that this picture be taken. He had loved and admired Miss Alexander since, as a young man, he had read her name in 'Abdu'l-Bahá's "Tablets of the Divine Plan."
208
---
The hospital was centrally located and her room was frequently full of visitors. Fellow Hands of the Cause visited her; Dr. Muhajir, Mr. Paul Haney and Mr. Samandari. National assembly members frequently gathered in her room after a meeting. Tokyo Bahá'ís had a party for her in her room celebrating her ninety-first birthday. At the request of Dr. Muhajir, Miss Ruth Walbridge, who was a nurse, came from the Philippines where she was pioneering, to help take care of Miss Alexander.
During the next two years Miss Alexander increasingly longed to return to Hawaii, and also her relatives wanted her to return where they could better watch her condition. In September 1967 she left Japan in a wheel chair, accompanied by Miss Walbridge.
In Honolulu, Hawaii, she lived her remaining years in an apartment, attended by a full-time nurse. She had numerous visitors through the years and seemed to be quite happy. On January 1,1971, Miss Alexander, Daughter of the Kingdom, quietly passed away. She was buried in the family plot in the Kawaiahao Cemetery in Honolulu.
click here for larger image
October 1965. Eight members of the National Spiritual Assembly of North East Asia visit Miss Alexander after a meeting. She always welcomed such visits as she liked to hear the latest news of the progress of the Faith.
209
---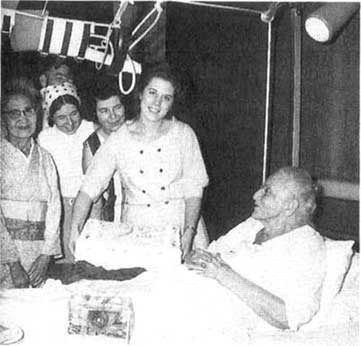 Miss Alexander appreciates her cake on the occasion of her ninety-first birthday. Miss Walbridge is holding the cake.


click here for larger image

Miss Alexander left Jikei Idai Hospital in early September 1967 to go to Kyoto to close up her apartment, as she was leaving Japan permanently shortly after. Of course, the friends offered to pack everything for her but she insisted on overseeing it herself. She still could not walk so she was accompanied by her practical nurse and Miss Walbridge. During the few days she spent at her apartment in Kyoto she had many visitors. The above photograph was taken September 6 in her apartment during a visit by several Bahá'ís of that area.

In the front. unidentified, Mr. Tadashi Terashima, Mr. Tokujiro Torii, Mr. Masazo Odani and Miss Fumiko Akai. Standing: Mr. Toshikazu Taniguchi, Miss Walbridge, Mr. Masaaki Ushibata, Mrs. Torii, Miss Alexander's practical nurse Ms. Takahashi and Mr. Shingo Akai.
210
---