Chapter 77
77. Three Japanese Bahá'ís Abroad
In 1967 several Bahá'ís from Japan attended the Intercontinental Conference of Asia in New Delhi, India. Dr. Toshio Suzuki representing Japan, along with a group of other Bahá'ís, was invited to meet the deputy Prime Minister of India, Mr. Morarji Desai. Dr. Suzuki wore the traditional Japanese "hakama" for the occasion. At the left showing his back is Hand of the Cause Mr. Ala'i. Hand of the Cause Mr. Varga is in the rear.
213
---
Mr. Masaaki Ushibata was a Bahá'í living in Kyoto when he heard about the special relationship between Japan and Australia (see Ch. 83), from Mr. William Washington who was the first Australian pioneer to Japan.
Mr. Ushibata had saved his money in order to attend the Palermo Conference in 1968, but he decided to go to Australia instead. He stayed there for several months.
At the time, teaching in New Guinea (now called Papua New Guinea) was a goal of Australia so on his way back to Japan he went travel-teaching there for two months.
In parts of New Guinea there were bitter memories of World War II, and of the Japanese. Accompanied by Australian pioneers, he travelled up into the highlands and was warmly greeted by Bahá'ís wherever he went. Most of them had never seen a Japanese before. It was a good demonstration of the oneness of mankind. Mr. Ushibata could speak to the Bahá'ís in English and some pidgin. It was the first extended travel-teaching trip out of Japan made by a Japanese Bahá'í.
Mr. Ushibata went on to become the first Japanese to fulfill a pioneer goal for Japan abroad, in 1975, to the Eastern Caroline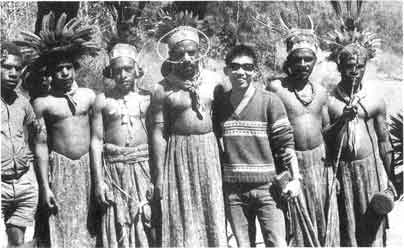 click here for larger image
Mr. Ushibata (with dark glasses) was warmly received by the Bahá'ís of Kue village in New Guinea, in 1968.

214
---
Islands, and the Western Caroline Islands. He has lived in the Western Caroline Islands since then. He was named Auxiliary Board Member for the North East Pacific in 1976 and he continues in that capacity, his area now being the Western Caroline Islands.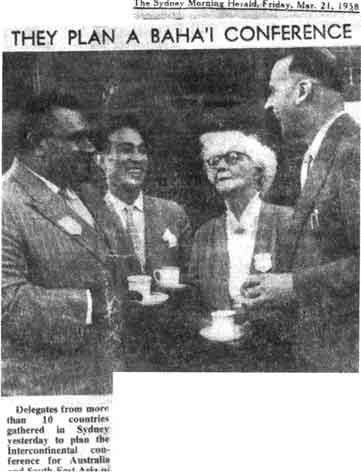 click here for larger image
Present at the First Intercontinental Conference in Sydney, Australia in 1958 were three Bahá'ís from Japan, Miss Agnes Alexander, Mrs. Tahereh Kazempour and Mr. Michitoshi Zenimoto. It was the first visit to Australia of a Japanese Bahá'í . Mr. Zenimoto recalls that the Bahá'ís in Australia arranged for him to speak on the Faith to hundreds of Japanese war brides in different localities.

Shown here is a newspaper clipping of some of the attendants to the conference. From the left, Mr. Latu Tu 'Akihekolo from Tonga, Mr. Zenimoto, Hands of the Cause Mrs. Clara Dunn and Mr. Collis Featherstone.
215
---