Chapter 78
78. Bernard Leach, English Potter, Author, Artist, Poet and Bahá'í
Until he died in 1979, Bernard Leach for over forty years was recognized as the greatest living Western potter. When asked who he thought was the greatest potter of all he answered "Shoji Hamada." But Hamada considered that Leach was. Both were leaders of the folk-craft movement in Japan.
The very name, Bernard Leach, assured a large and attentive audience, and he always devoted as much effort for the propagation of the Bahá'í Faith in Japan as his time would allow. He lived in England, St. Ives, Cornwall, where he had his pottery but he often visited Japan. In the later years when he was almost blind he still came to Japan to oversee exhibitions of his work.
For all his fame and prestige, he remained a humble man, speaking from the heart about the things he loved, the Bahá'í Faith, and art.
In the early days before he became a Bahá'í he was attracted to Buddhism, and was a close friend of the Zen master, Daisetz Suzuki, whose American wife was a Bahá'í.
Leach had first heard of the Faith in Japan from Miss Alexander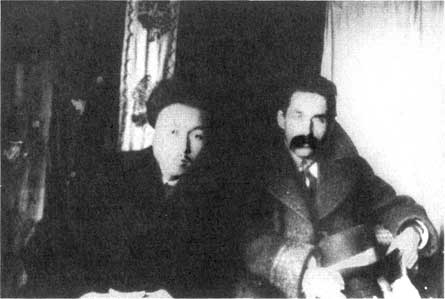 Dr. Yanagi and Mr. Leach in the 1920s.
216
---
shortly after she arrived. Many years later he was taught more about the Faith from his friend, the well-known artist Mark Tobey, and he eventually accepted it. What attracted him to the Faith was that he thought in the Bahá'í Teachings East and West could unite.
Leach was the author of some renowned books, "A Potter in Japan," "Beyond East and West," "Drawings, Verse and Beliefs" and others. In many of his books, the Bahá'í Faith and its meaning to him was given prominence.
In 1953 when the Faith was still rather obscure, especially in Japan, Leach felt the urge to explain his deep religious conviction to his friends, and others who knew of him. He wrote a pamphlet, "My Religious Faith," which was printed in both English and Japanese on beautiful textured paper, in the folk-craft style. The binding of the pamphlet was attractively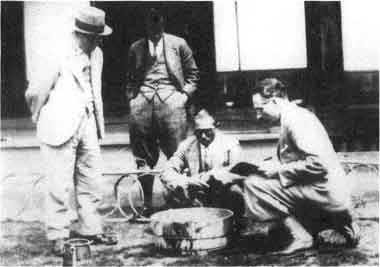 click here for larger image
The Best
Mr. Shoji Hamada, world-famous potter (left); Dr. Soetsu Yanagi (standing) who led the Mingei (Folkcraft) movement in Japan, Mr. Kanjiro Kawai, another prominent Japanese potter (kneeling) and Mr. Leach (right), who was sketching a cat-fish in a wooden pail. This photograph was taken in 1934.

Dr. Yanagi was also a friend of Miss Agnes Alexander during the very early days. At that time he was striving to bring unity through art between Japan and Korea. He gave her an introduction to a newspaper editor in Korea when she went there for the first time in 1921.
217
---
hand-stitched. Always the artist, with a great love of beauty, he was as careful in the outer presentation of the pamphlet as he was in its inner contents. This pamphlet was not only used personally by Leach, but he gave the Bahá'ís of Japan permission to reproduce it. It has been a valuable teaching aid through the years.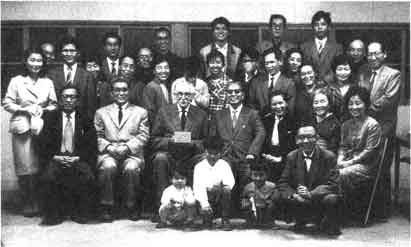 click here for larger image
Bernard Leach at a Bahá'í meeting in Kyoto, 1961.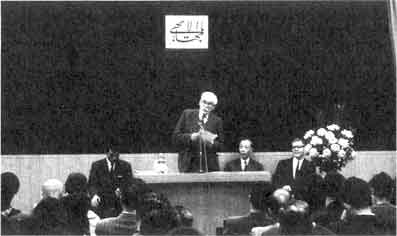 click here for larger image
The famous British potter, Mr. Bernard Leach lecturing at a Bahá'í public meeting in Tokyo in the early 1960s. Dr. Hosoda, Dr. Mizuno and Dr. Earl are sitting on the stage.
218
---