Chapter 80
80. Okinawa, Ryukyu Islands
For several years after World War II, the Ryukyu Islands was under United States occupation. In 1972 the islands reverted to Japan. There were American Bahá'ís attached to the U.S. forces stationed on the islands from time to time before and after reversion. Their activities were, of necessity, largely with other Americans.
In the Nine Year Plan, 1964, opening the Ryukyu Islands was a goal given to the National Spiritual Assembly of North East Asia by the Universal House of Justice.
Dr. Toshio Suzuki and his wife were living in the Nagasaki Hazira at the time. Upon hearing of this goal, Dr. Suzuki made a week-long trip by himself to Okinawa for the purpose of teaching the Faith.
He went by boat from Kagoshima to Naha and then by bus and on foot to the villages in the north. In those days, Okinawa was a poor area but Dr. Suzuki found the people warm and friendly. He said he showed his teaching album and talked to
click here for larger image
April 1971. A party at a Chinese restaurant on the occasion of Mrs. Lee becoming a Bahá'í. She is sitting at the left. Next to her is Miss Hayashi and a friend, Mrs. Suzuki. Standing are Mrs. Lawrence and Mrs. Setsuko Barcus.
223
---
about thirty people. Then he had to return to Nagasaki and could not follow up.
In 1967 Mrs. Caroline Lawrence settled in Naha, Okinawa; the first pioneer to the Ryukyu Islands. She could not stay there without work but luckily she was hired almost immediately by Mr. Isei Kohazame to teach at his English school. As Mrs. Lawrence worked on the local economy, she could make friends among the residents. She provided continuity. Most of the early Okinawan Bahá'ís were contacts of hers.
Mr. Kohazame had been to the United States in about 1952 and had seen the House of Worship in Wilmette, Illinois. Mrs. Lawrence recalled that although he didn't become a Bahá'í until several years later (1978), he was a great help in the work of spreading the Faith. She wrote, "He not only gave me a job, he also met all visiting Bahá'ís. He arranged meetings, parties and made arrangements for Hand of the Cause Mr. Featherstone to meet with the governor of Okinawa and the mayor of Naha." Mr. Kohazame's school facilities were used for the election of the first Local Spiritual Assembly of Naha in 1971.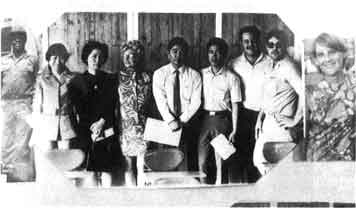 click here for larger image
The first Local Spiritual Assembly of the Bahá'ís of Naha, Okinawa, Japan, 1971. Left to right. Mr. Robert Ephriam, Mrs. Grace Lee, Mrs. Kazuko Natomi, Mrs. Caroline Lawrence, Mr. Akio Natomi, Mr. Hiroshi Yonamine, Mr. William Myers, Mr. William Clements and Mrs. Lynda Myers.
224
---
Hand of the Cause Mr. Featherstone giving Bahá'í literature to the mayor of Naha, 1972.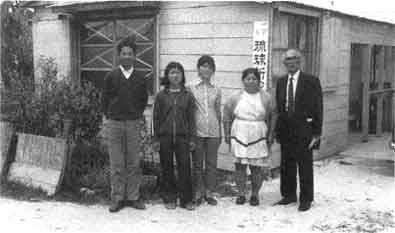 click here for larger image
.
In 1972 Mr. Koreo Yuasa (right) of Hiroshima went to Okinawa with Mr. Vahdat for teaching and deepening. Mr. and Mrs. Seikou Tamashiro, shown here with their daughters, had become the first Bahá'ís of Nishihara, Okinawa, the previous year. The first Local Spiritual Assembly of Nishihara was formed that year, 1972.
225
---
During 1970 and 1971 a number of Americans attached to the U.S. Forces became Bahá'ís but it wasn't until April 1971 that the first residents of Okinawa accepted the Faith; Mrs. Grace Lee, a resident of Okinawa but a citizen of Taiwan, April 8; Mr. and Mrs. Akio Natomi, April 15; Mr. Hiroshi Yonamine, April 17; Mr. and Mrs. Seikou Tamashiro, April 18. Others soon followed. A few days later, Ridvan 1971, the first two local spiritual assemblies were formed; one in Naha and the other in Chatan. The latter was composed entirely of Americans attached to the U.S. Forces. As they rotated, Chatan lost its assembly status. Naha had active Okinawa residents and could maintain its status through the years.
Several pioneers in Japan visited the Okinawa Bahá'í community in the 1970s to help with the work. Among them were Mr. Rouhollah Mumtazi in his capacity as counsellor, Counsellor Vicente Samaniego from the Philippines, Mr. Heshmat Vahdat, Mrs. Barbara Sims, Mr. Philip Marangella, Miss Toni Mantel, Mr. Jim Jamison and Mr. Charles Duncan, who later decided to move to Okinawa permanently.
In the 1970s Japanese also arose to teach in Okinawa; Mr. Masaaki Ushibata, he had been among the first Japanese to travel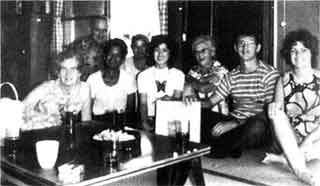 click here for larger image
Hand of the Cause Mr. Collis Featherstone and his wife Madge, both on the left side, visit the friends in Naha, Okinawa, 1974. It was Mrs. Featherstone's first visit, but Mr. Featherstone's second.
226
---
abroad for the Faith (New Guinea, 1968); Miss Kazuko Hayashi (Bray), Miss Kuniko Inoue and Mr. Koreo Yuasa.
In 1970 when Universal House of Justice member Mr. Hugh Chance heard of the work being done in Okinawa, he was moved to write an encouraging letter to the group. He reminisced that exactly twenty-five years before, he, as a young naval officer, not yet a Bahá'í, was on a ship anchored at Naha harbor riding out a typhoon. His ship also visited Yokohama.
Mr. Collis Featherstone was the only Hand of the Cause to visit Okinawa. In May 1972 he presented the book, "The Proclamation of Bahá'u'lláh" to the mayor of Naha and he also met the governor of Okinawa. Mr. Featherstone came again in 1974 and 1988 with his wife Madge.