Chapter 81
81. The North Pacific Oceanic Conference, Sapporo, Hokkaido, September, 1971
At Ridvan 1969 the Universal House of Justice announced a series of eight Oceanic and Continental Conferences to be held between August 1970 and September 1971. One was designated for Japan. It was held in Sapporo, and took place less than fifteen years after the National Spiritual Assembly of North East Asia initiated active teaching on the large island of Hokkaido, resulting in it being opened to the Faith with resident Bahá'ís.
Hundreds of Bahá'ís flew to the northern island. Attendance at the conference totaled six hundred and twenty-five, a vast difference from the summer of 1932 when Miss Alexander went alone by boat and train to speak of the Faith at Esperanto meetings. She wrote that it was a privilege that God had granted her, to plant seeds of the Divine Cause in that remote area.
In their message to the conference, the Universal House of Justice paid tribute to Miss Alexander. She, the first Bahá'í in the Pacific, had passed away on January 1 of that same year in the land of her birth, Hawaii.
The Universal House of Justice message also called attention to the "teeming millions" in nearby lands who had not as yet heard of the Most Great Dispensation, reminiscent of a similar phrase used by the Guardian in 1952 at the time of the launching of the Ten Year Spiritual Crusade. But now the Faith was
227
---
North Pacific Oceanic Conference, Sapporo, Japan, 1971.
228
---
firmly established in this land, as evidenced by the conference. The message from the Universal House of Justice also recounted the great strides made in the advancement of the Faith in the sixteen years since the historic Asian Regional Teaching Conference in Nikko.
The Sapporo Conference offered an unprecedented opportunity for proclamation. A special poster was printed and thousands were distributed all over the city; write-ups and interviews were put in newspapers; three radio programs on the Faith were beamed afar; two television programs were broadcast, one with Bahá'ís in native costume.
There was a public meeting with Mr. Furutan sharing the program with Dr. Kuniyoshi Obara and Dr. Harusada Suginome. The three men, all educators, spoke to a large audience in the attractive hall. There were about one hundred and thirty declarations of Faith during the conference.
The House of Justice wrote in their message ". . . The sweet perfume of victory is in the air..."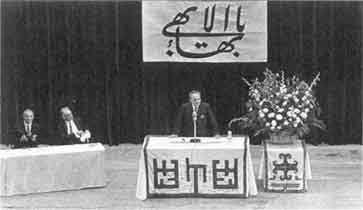 click here for larger image
The three Hands of the Cause attending the conference in Sapporo. Left, Mr. Featherstone, Mr. Furutan who was assigned to represent the Universal House of Justice at the conference and Dr. Muhajir who is speaking. The interesting rostrum covers were made by the Bahá'ís of Ainu heritage using traditional Ainu designs.
229
---