Letter to Ellsworth Blackwell
Haifa, Jan [illegible] 1948.
Dear Baha'i Brother.
Your letter to our beloved guardian of Dec. 26th, 1947, was received together with the clipping you sent. and he has instructed me to answer it on his behalf. He does not see any objection to Baha'i students taking part as Baha'is in a protest such as that mentioned in the clipping. On the contrary he does not see how they could remain indifferent when fellow students were voicing our own Baha'i attitude on such a vital issue and one we feel so strongly about. He thinks that the quotation you cite, from "The Advent of Divine Justice," would certainly indicate that such a protest was justifiable, as there was nothing political about it, there was no reason for the Baha'i students not to participate. He assures you and your dear wife of his prayers on your behalf and his loving appreciation of your trusted services to the Cause.
With Warmest greetings, R. Rabbani.
Assuring you of my ardent prayers for the success of your high endeavors and the realization of every hope you cherish for the advancement of the vital interests of your beloved Faith, your true brother, Shoghi.
"In connection with the subject matter of Mr. Blackwell's letter and your reference to it, the Guardian feels that, as he said in his letter to Mr. Blackwell, there was no objection at all to the students taking part in something so obviously akin to the spirit of our teachings as a campus demonstration against race prejudice. The Bahá'ís did not inaugurate this protest, they merely were proud to have a voice as Bahá'ís in such a protest, took part, and he thinks they did quite right and violated no administrative principle."
(From a letter written on behalf of Shoghi Effendi to the National Spiritual Assembly of the United States and Canada, November 18, 1948)
comments by Richard Hollinger
These articles are about a December 1947 protest against racial discrimination at the University of Chicago that Baha'i students participated in. I believe this is the protest that Ellsworth Blackwell wrote to Shoghi Effendi about, which brought the well-known response affirming that their participation was appropriate. If you look closely in the photos you can see a sign saying "Baha'i University Fellowship Fights Bigotry."
I'm writing about the role of Baha'is in the civil rights movement. I went looking for this demonstration to place that letter in some context, but also to see if it linked to CORE, which began at the U of C a few years earlier and which Baha'is were active in around this time.
Committee on Racial Equality was a big thing in Chicago, with linkages to the later Freedom rides against Jim Crow in the south. If you want me to look through archival materials, let me know...can't do it just now, but eventually. I have looked at Beecher Hall's student director committee records from when Martha Root lived there (it was a dorm then, it houses faculty offices mostly now. She briefly held an office - treasurer I think it was.
at some point i would to figure out the role that Ellsworth Blackwell in the Development of CORE's protest strategies. He was chair of their public accommodations committee in 1944, when he planned some creative protests to integrate an ice rink. I'll be looking at the national CORE records shortly, which may document this, but they are mainly from the 1960s onward.
I am guessing that he sent the article from the Chicago Defender about the protest, which includes the smaller photo, which is likely what raised the issue in the Chicago community.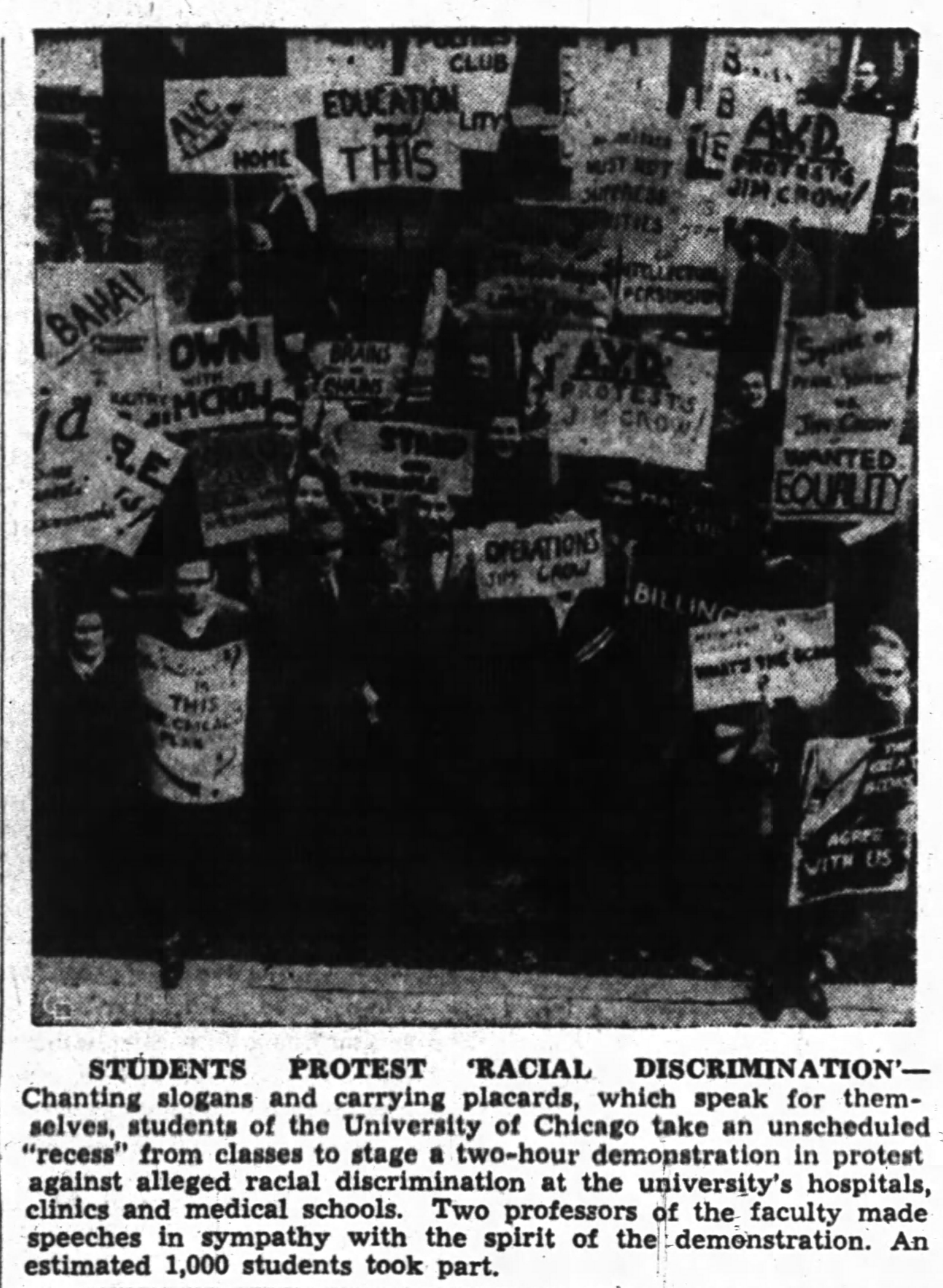 Above clipping was fairly widespread, originated w/ Chicago Defender.